Specific device for application in fire-protection systems. Designed for 2 or 3 outputs and protected from overload and short circuit, it provides fault indication and eliminates the deep discharge of batteries

Temperature compensated charging

Input: one single phase (115-230-277 Vac)

Output: 12-24-48 VDC

Temperature compensation

Deep discharge protections

IUoUO charging curve, constant voltage and constant current Battery-Life Test function (Battery Care)

Four charging modes: Recovery, Boost, Absorption, Float

Protected against short circuit and reverse polarity

Output signal (contact-free) for discharged or damaged battery, Modbus, main and back-up

Combinable with DC UPS series

Wall mounted

Protection degree: IP30

Complies with EN54-4
| | | |
| --- | --- | --- |
| | | |
| Recreational | Hospital | Metropolitan |



Safety DC-UPS is an uninterruptible power supply unit for fire protection and voice alarm systems. It is possible to configure the device by choosing two different types of display, DPY351, and DPY353 while meeting all requirements of the EN54-4 standard.
You can integrate the device with the whole range of CBI ADEL system batteries and different battery sizes (from 1.2 to 18 Ah). Its protection degree is IP30. The maximum output can reach 20 A, and it can be distributed between load and battery, depending on the type of CBI chosen.
The complete range of power-supply output is 12-24-48 VDC. CBI devices can load, recharge and test batteries. For Recharge-&-Testing battery features, please refer to the Technical Data of the CBI Line.
In case of failure, The CBI devices switch automatically the battery to load without any output interruption.
The battery is tested, charged and its charging temperature is compensated through the external temperature sensor.
With models DPY351 and DPY353, you can monitor the state of the device. An alarm will directly report a signal through dry contact or by Ethernet. The alarm signal mainly indicates a problem related to:
a battery fault (

Internal Impedance

)

a back-up

a rectifier fault.
SFP54.4 can be connected through other devices by ADELBus in a loop configuration.
For instance, CBI2801224A is performed for this configuration. In this way, you can manage additional devices with only one DPY351 display.
It is also possible:
to detect electromagnets for fire doors

to detect record switch detectors, ground leakage, and environmental temperature

to control light or output sound alarms.
Installing an LDC (3.5") on the front panel enables you to monitor the system condition, i.e., event log, alarm, battery, back-up, output current (and voltage) during the loading, as well as the battery side connected on the loop. There is also a keyboard on the display of DPY351 for the configuration and maintenance of the device.
Devices Selection
Power Supply Units
You can connect all the DC-UPS (CBI line of ADEL system DC-UPS).
They are all-in-one products and incorporate a power supply, back-up, battery charger, tester module, and Power Management System.
Power Management System is an automatic power-sharing system that works across the power supply, the battery, and the load. It is suitable for all battery types. Our Battery Care is an automatic form of diagnostics that checks the battery status, including our Life-Test function. This system detects the internal battery impedance (Input: 115-230-277 Vac - Output: 12-24-48 VDC).



DPY351

Inside the Device
The 3.5" display, designed for heavy-duty usage, thanks to a robust IP67, allows the user to manage multiple units, as well as monitor, configure, store and remotely connect. A single device, therefore, enables the inclusion of all these functions, ensuring great performance at the highest level.
Display View
| | | |
| --- | --- | --- |
| | | |
| Dashboard | Display Configuration | Customize Dashboard |
| | | |
| Customize "Six Values" | Customize "Two Values" | Customize "Single Value" |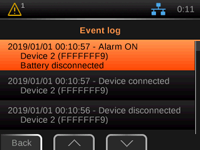 Notification Alarm
DPY351 is a powerful device in addition to being a gateway:
HTTP Web Server to configure and drive the device by Ethernet
Static or Dynamic IP.
TCP/IP Modbus - TCP/IP Configuration (configuration of parameter groups associated with default values to allow a unique identification of the unit in the whole network).
SNMP v2c (an ADEL system MIB-table is provided. It consists of a list of parameters of the connected power device that can be remotely read, as well as read-written, through the SNMP. Each parameter, OID, is mapped one-to-one to a RTU Modbus holding register).
MQTT communication to allow the DPY351 to connect to the ADELView System Cloud for the remote monitoring of the power devices connected to the DPY using Modbus or CANbus.
Schematic Environment DPY351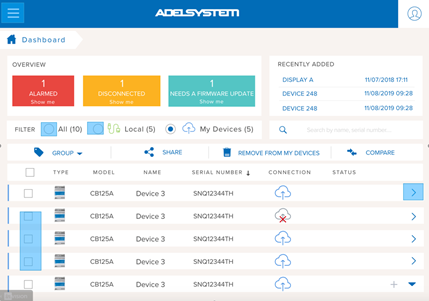 Software
Suite for remote monitoring and management of the device connected in ADELBus network or in the Cloud. It is possible to monitor and configure the device for months/years, i.e., history log, data log, etc.
Accessories



RJTemp
RJTemp for CBI line (compensated-temperature battery charge).

RJTemp temperature measuring. DPY351 can measure environmental temperature and take actions in relation to its minimum and maximum values.